Sapphire Universe by Devon Herrera
My rating: 5 Stars
~ Comfort is dangerous. Need is a handicap. Once you get comfortable with something, you stop paying attention. You lose focus on the things that matter and you take things for granted. Comfort gives you a false sense of security and you start to ignore you instincts, you forgot to look around you and defend yourself. Need is much more lethal though, because when you need something, you can't live without it and nothing is forever.~
Well that was Not what I was expecting at all!
Nina has experienced much grief and despair in her twenty-six years. Losing her mother and father when she was 17 Nina's world was turned upside down. Devastated by loss and grief, she was blind to the warning signs the Universe was sending her. She never saw the betrayal and pain coming and when it did, it crippled her. Nina barley made it out whole, but when she did she vowed to take control, to never again be blindsided.
Nina
Nina lives her life in a spectator's state. She is constantly watching and waiting for the signs that she uses to stay on the right path. The Universe is her guide and with it and a strict set of rules, she is safe, guarded. The Universe has never steered Nina wrong so far, so she's completely rattled when it throws her directly into the path of the one thing she has learned to avoid. And it just keeps pushing.
One day when the Universe was sticking it to her, Nina meets Connor.
Connor is everything Nina can't have and shouldn't want. He's gorgeous, charming, fun, and has sapphire eyes that see everything.
Connor
Nina and Connor's first interaction had me smiling so much it hurt.
In fact reading every interaction Nina and Connor had me pretty much in this state-
They were fantastic! They had such a playful relationship with so much banter!
Nina fights her feelings for Connor at the start, She doesn't date and can only offer friendship.
"I get that there's something you're not telling me, but I'm a patient guy. We'll do this you way Nina, for now. Your pageant girl smile and fuck off attitude may have worked with other guys, but I see right through it. If all I can have right now is friendship, then I'll take it.
~ Connor
But their chemistry is undeniable and soon enough Nina lets go and lets Connor in.
I'm real Princess and I'm right here. The question is what are you going to do about it?"
"I want you, Nina. I want to be with you. And I want you to let me."Wow! pinch me! oh, what the hell. If he can lay it all on line,then so can I.
"I think I might want to let you."
Connor is something else he is so sweet. One of the best! I loved him. *SWOON*
"Nina Ryan, you are complicated, unique, adorable and real. I've never had more fun with another woman. You also happen to be sexy as hell and the most naturally, devastatingly beautiful woman I've ever met." He leans further down and presses his have to my hair and inhales. I'm not going to survive you."
Oh wow!
The sex was smoking hot but found myself giggling at their banter even in the middle of sex! It was the best!
"So, I'm pretty sure all your neighbours know you new boyfriends name." I blush. I wans't that loud was I? "Don't be embarrassed Princess. Every man within a two mile radius is extremely jealous of me right now."


"Oh goodness! I suppose you will just have to eat me then." I chime, straight faced and Connor's eyes widen in shock a second before we both burst out laughing.
"That was like a bad porno! Nina baby, you're a terrible actress. Don't worry you can survive on you looks these days."


"Hey, if you wanted to sleep last night you shouldn't have thrown down the gauntlet like that. I'm a man Princess. Wearing lingerie to bed is like offering us a buffet. We won't stop eating till the restaurant closes."
There is a little mystery and action that had me on the edge of my seat.
I thought I had it figured out but I was so wrong. Then relieved cause it wasn't that bad anyway PHEW..
I loved Nina she was the bomb! The majority of my kindle highlights are her lines!
"Do you need a pen? I asked him. He looks a little confused at first but says "No, why." I look back at the woman and she is still staring at Connor and has caked her lips with gloss.
"Oh I just figured she'd ask you to autograph her tits or something."

"Please tell me that's the dress that goes under the real dress." I look down at myself and glare back at him. "No this the dress that you definitely won't be taking off me unless you get over it."

"Nadiya is it?" I step in front of Connor before either he or Nick could steal my opportunity to tell this bitch off. "I really don't know why you're here since you were not invited to the party that I threw for MY boyfriend, but maybe that's just how girls do things in NewYork. However, you're not in New York anymore and insinuating that I'm a whore while standing in front of MY house, coming onto MY man, is a good way to get your ass kicked in this stated."
"So if you could kindly, get the fuck off my property, Connor and I have plans this evening that do not involve his crazy ex."
OH SNAP!!!
This was brilliant they were perfect for each other. Devon has written an amazing story and I'm so glad I stumbled across this one.
I can't wait for the next one with Lola and Drake.
Get this on your TBR list people and If you already have,
WHY HAVEN'T YOU READ IT YET????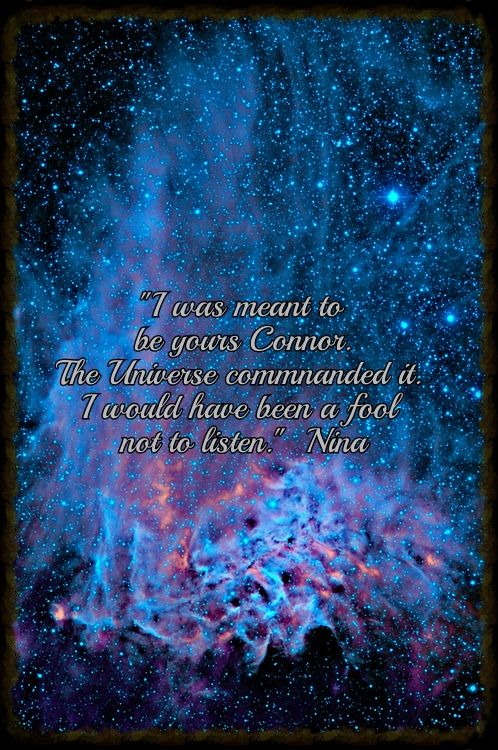 Buy it
Read it
Love it