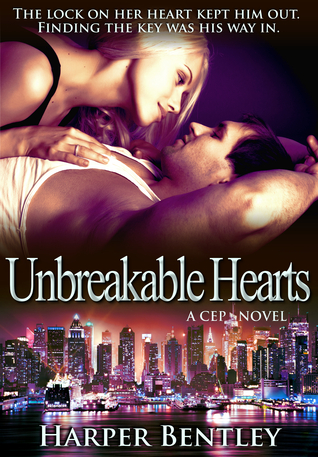 Tilly Maxwell is a freelance photographer in New York City who happens to take the right photo at the wrong time. While on a shoot, she captures in the background of one of her pictures a man who's just committed a murder. A man whose perfect crime has now been foiled because of chance. Because of one ill-timed click of the camera, a photographer must be silenced, and Tilly's now on the run for her life.
John Osby, Oz, an ex Army Ranger who is now one of CEP's best, is shocked to see Tilly when she calls on the agency needing help. Talk about a blast from the past. They attended high school together and he remembers her as the quiet, adorably awkward and somewhat nerdy photographer he'd had a crush on, but because their lives were so different, he didn't dare cross the line with her, except for one drunken kiss. But now they're older, she's blossomed into a real beauty and he intends on crossing any line he can to protect her… and have her as his own.
A woman who adamantly guards her heart encounters the one man who may be able to break down her barriers. When the past collides with the present, boundaries will be pushed and unbreakable hearts will be tested to the limit.
Tilly Maxwell is your typical plain jane, photo nerd and always has been since high school. She never took any risks with her heart except in the exception of the high school quarterback John Osby aka 'Oz'. She had the biggest crush on him all through school but besides one drunken kiss at a party one night she was pretty sure he didn't return her feelings. Tilly went on to start her own photography business and never fell in love but for 10 years has always thought back on that kiss. When Tilly is out doing photos for the Thanksgiving parade she unknowingly takes a photo of Graham Hightower leaving the scene of a crime that he painstakingly planned out. This causes Tilly's life to be threatened so her brother hires a security company to install an alarm system in her house. When the alarm tech shows up it's no other than Oz himself, and he is even sexier than she remembered.
Oz hasn't had an easy go of things. He was your typical bad boy jock with the police record to prove it but he was always haunted by a girl with teal eyes that used to take his pictures for the yearbook. Oz couldn't believe after 10 years he has ran into Tilly again and this time he plans on grabbing on with both hands to keep her. The only problem is that Tilly has her heart so protected by a wall from losing two of the most important people in her life that he doesn't know if he can break it down.
So this is a suspense romance but it's not your typical who done it. Harper Bentley was able to keep you on the edge of your seat while also giving you insight to what every character was doing. You get to go in the head of Tilly's exboyfriend (who I'm pretty sure was dropped on his head a few times..lol), the 'bad guy' and his cronies and also the two main characters Oz and Tilly.
I fell in love with Oz from the start, he is all man!! He went from a hard-headed youth who played by his own rules to an honorable man who served his country and when he was unable to do that anymore he went on to protect the public from the scum of the earth. The dynamic between Tilly and Oz is super sweet and OMG HOT!!
Even though I was thrown off by the fact that there was no real mystery, this book had me needing to see what happened next. Miss.Bentley has done a wonderful job at writing this book and I cannot wait to read some more from her!
★★☆4 Photo Snapping Stars ☆★★
Review By Angela Deforge
About the Author
Harper Bentley has taught high school English for 21 years. Although she's managed to maintain her sanity regardless of her career choice, jumping into the world of publishing her own books goes to show that she might be closer to the ledge than was previously thought.
After traveling the nation in her younger years as a military brat, having lived in Alaska, Washington State and California, she now resides in Oklahoma with her teenage daughter, two dogs and one cat, happily writing stories that she hopes her readers will enjoy
.
Follow the author at these links
a Rafflecopter giveaway