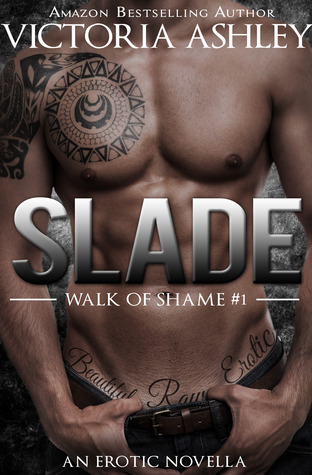 My name is Slade Merrick and I'm a fucking sex addict . . .
I've been told it's a problem. But I see it as a passion; something that I'm good at. And who the fuck stops something that they're good at?
They want me to seek help; get my cock in check. Don't judge my lifestyle. You're no better than me. Just admit it, you like to fuck too. Sex is what I do best; my own personal high, so I embrace it instead of being ashamed.
When I'm not fucking, I'm slinging drinks at Walk Of Shame or stripping my way into your bed; another thing I'm good at. Every woman's darkest fantasy brought to life.
So, am I stopping? Fuck no. Sex is beautiful, raw and erotic and I get off knowing I can have it with anyone I want . . . with the exception of her.
She walks into the club swaying those hips, instantly drawing my cock to attention. She's pure perfection. That is, until she opens that mouth, drawing me in and for the first time in forever I want something more than sex. I want her and she hates it.
Things get dirty. Dirty is what I like; it's how I live. But . . . she's playing a game she can never win.
This book is like Magic Mike gone wild! Its Raw, Dirty, Hot, downright addictive and I LOVED it!!!
The sex in this book was the best ever written by far! Just enough detail and not over done!
Slade works at a strip club called Walk of Shame as a bartender and stripper. With a rock hard body, tats and an addiction to sex, he is every woman's fantasy. Slade is a dirty mouth, bad boy and you can't get enough of him. From the way he dances to his skills in the bedroom, the man is sex himself.
Slade is a man whore and screws anything and everything, but with one rule.
He never screws the same woman twice. Slade knows he is that good and he can get any women he wants. His eyes find a Blonde hair beauty with a banging body that just walked in his club with her friends.
He immediately approaches her and holds nothing back. Just when Slade has the woman before him all hot and bothered, she does something that has NEVER been done to Slade.
"Thanks for the offer, playboy, but I'm here to meet a friend and like I said, I'm not interested."
Aspen is back in her home town, needing a break from her life. She goes out with a couple of her friends to a strip club, so she can meet up with her best friend Cale. Cale is also a stripper at Walk of Shame.
Cale has offered Aspen a place to stay with him and his roommate. Aspen is having a good time when the sexist man she's ever laid eyes on is stalking towards her with a look of lust in his eyes, like she is his prey. Her mind trying to fight her body's needs, she finally composes herself and tells him she's not interested. Feeling pissed and ready to get away from the sex on stick stripper, she sees Cale heading towards them ready to leave.
"Dude, back away from out temporary roommate. You're freaking Aspen the fuck out,
Sir Dick a lot."
Slade takes this piece of information to his advantage. He was set out to have Aspen. He has never had a women to turn him down. Although it felt foreign to him, he was even more determined to have her.
The more she fought him, the more he was turned on. He knew she wanted him. Every time he was around her he had her doing things and losing control around him. Aspen tries to fight off Slade's advances but every time she is left panting and wanting more. Then one night she can't hold back anymore.
I slowly pull my fingers out and suck them into my mouth, tasting her as she watches me with hooded eyes. She likes it when I taste her.
"Fuck me, Slade," she moans. " I want your big fucking dick deep inside of me. I want to see how long you've been wanting me. I want to know that I'm not the only one that's been suffering."
After a night of some very hot and intense sex, Slade awakens during the night panicked. He realizes he let her sleep in his bed. Something he doesn't allow. Aspen wakes startled and alone. She searches for her clothes ready to run, but what she finds instead has her confused and wanting to ask questions.
Never given the chance, Slade appears and accuses her of going through his stuff and he tells her to get out.
Okay I'm going to stop there! I could go on and on but you are going to have to read it to know what happens. This book is very addictive! Once you start you can't stop! Yes this book is off the charts Hot, but there is an emotional side to it too. I absolutely loved it!! There are other very hot and kinky characters in the book that will leave you wiping the drool from your mouth! I can't wait to read their story.
Reviewed by Ashley Lenderman
EXCERPT
Releasing the doorframe, I take a step closer and slowly run my hands down her sides, tracing every curve through the thin material. Fuck, she feels so good. My hands stop amidst her hips and I squeeze, pulling her body to press against mine. My cock hardens against her stomach and she sucks in a deep breath, but doesn't pull away. A part of her wants this and the more I look at her, the more I fucking want her; a distraction. Fucked up or not, I can't deny that I need this fucking distraction, addiction, necessity or whatever else you may want to call it. I've gotten used to the harsh judgments of my lifestyle.
"We can take a shower together." I brush my lips over her neck and whisper, "I can dirty you with my body and then clean you with my tongue."
She tilts her neck and allows me to run my tongue up it as if that's the pass code to her arousal. She likes it. I can tell by her soft moans. "Have you thought about what my cock will feel like inside you?" I suck in her earlobe and bring my hands down to cup her ass. It's the perfect fit. "I want to fuck you. I want you to know what it feels like to have me deep." I lick my lips and breathe into her ear. "Inside you."
Her chest pushes out as she takes a deep breath. "I don't even know you." She places her hands on my chest and backs away. "Plus, I don't like you. Now, if you don't mind. One of us has to take a shower first. You or me? Pick one."
She presses her legs together and I can tell she's trying to hide that I have her pussy aching for my touch. She's wet and ready for me. I don't have to check; I just know. That's okay 'cause my cock wants it just as much.
Enjoying watching her squirm, I smile and lean into the doorframe. "I'm going to take care of that for you."
Her eyes watch mine as I look down at her black panties that are barely peeking out from under what I assume is one of Cale's old shirts. For some reason, the thought of stripping her out of another man's shirt turns me on; gives me a rush knowing I can.
She watches me intently, but doesn't say a word as I grab the bottom of the T-shirt and slowly lift it over her head and toss it behind me. She's standing there in just her thong and bra. Her breasts are plump and firm, squeezed into a tiny black bra to match her panties; her cleavage playing peek-a-boo. My cock instantly strains to break free from the material as I imagine dropping to my knees in front of her and devouring her fucking pussy; the perfect breakfast.
Running my hand up her tight little stomach, I press her up against the wall with my hand above her head. "Touch yourself for me."
About the Author
Victoria Ashley grew up in Rockford, IL and has had a passion for reading for as long as she can remember. After finding a reading app where it allowed readers to upload their own stories, she gave it a shot and writing became her passion.
She lives for a good romance book with tattooed bad boys that are just highly misunderstood and is not afraid to be caught crying during a good read. When she's not reading or writing about bad boys, you can find her watching her favorites shows such as Sons Of Anarchy, Dexter and True Blood.
She is the author of Wake Up Call and This Regret and is currently working on more releases for 2014.
Follow the author at these links