Title: Relent (Sydney Storm MC#1)
Author: Nina Levine
Genre: Romance, Contemporary
Publication Date: February 23,2015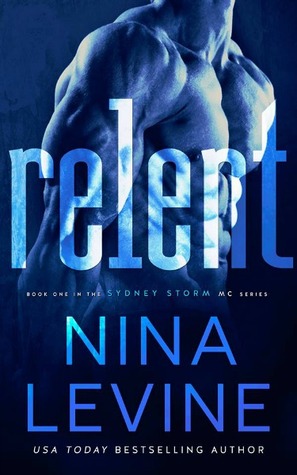 Evie Bishop grew up loving Kick Hanson. He loved her, too. They were inseparable. Best friends who looked out for each other. Until the day scandal hit their families and ripped everything apart, changing the course of all their lives.
Kick follows a dangerous path that leads him to the Storm MC where he spends his days buried deep in a violent and lawless world that is slowly consuming his soul. Evie works hard to escape the hopelessness that threatens to swallow her after her family is ripped apart. She builds a stable life for herself, however it's devoid of the one thing she has always longed for - Kick.
The love these two have for each other never wavers but sometimes in life, love isn't enough. Even in the times they find each other again, they can never make it work. Kick fights against bringing Evie into his world and Evie refuses a life with Kick if he won't fully commit to her. However, when circumstance throws them together again, Kick knows he must finally make her his. The trouble is, Evie's done. She loves him but she believes their chance to be together has long passed.
When Kick finally stakes his claim, will Evie relent and give their love another go, or has Kick left it too long to go after the woman who has owned his heart forever?
Relent is the first book in the Sydney Storm MC series. This is a spin off series to the Storm MC series. Readers do not have to read the Storm MC series to read this one.


Okay, I'm a huge Nina fan! I have loved all her books and just can't get enough of them. However, this book was missing something. We still have the foul mouth, possessive, alpha biker and the MC world he lives in. I just had a hard time connecting to the characters. I did love the fact the hero and heroine been in love since their younger years and had a past and they eventually come back to each other, but everything else was just so so. I will say the sex scenes were hot and loved that the heroine told her man like she likes it! LOL!!
Overall, I wanted more of the angst and build up in the story. Kick and Evie's story just seemed like other biker stories. I wanted to see more of Kick's kinky side. He loved cuffs and tape what more does he like?? As for the shit that was going down with the club I wanted to see more suspense and action. I will continue to read the series because I'm a huge MC fan and hope to see more in the upcoming series.
Review by Ashley Lenderman
USA Today Bestselling Author Nina Levine, is an Aussie author who writes stories about hot, alpha men and the tough, independent women they love.
When she isn't creating with words, she loves to create with paint and paper. Often though, she can be found curled up with a good book and some chocolate.
Sign up for my newsletter! I will be starting an exclusive newsletter only serial in 2014! Liam & Roxie's story, featuring the boys from Storm will be coming out soon (only to newsletter subscribers!).
Join here:
http://eepurl.com/OvJzX
Follow the author at these links